The stove as part of the interior design
Right from the start, at MCZ we tried to go beyond the nature of pellet stoves as a pure functional object, exclusively intended for heating. Therefore we associate the most innovative operating technologies with a captivating design, inspired by the historic heritage of Nordic design
Stoves should always be regarded as part of the interior design and this is why they must blend in with the environment.
The essential characteristics of designer pellet stoves are:
an even more beautiful view of the flame
the use of materials of the highest quality and impact (glass, stone, ceramics, high thickness metal)
no front ventilation grilles.
These stylistic aspects have now become a kind of "signature" for the most refined models of the MCZ pellet range.
Here below you can find some of them.
Mako is the new stove from MCZ that combines the most innovative operating technologies with a Nordic minimalist design. The cladding is entirely in painted steel (Black and Bronze). Intelligent combustion management with Maestro+ technology.
Read more here.
Pellet stove with minimalist and geometric style front, with no visible vents, available in serpentine stone or painted steel finish. It is perfect for maximising space thanks to its limited depth (39 cm) and to the upper smoke outlet, meaning that it can be used with the existing flue. As standard, it offers the possibility of channelling hot air to several rooms (Comfort Air®) and the No-Air function, for quieter heating by means of natural convection when necessary.
Read more here.
Ductable sealed pellet stove, which, within its soft, feminine lines, elegantly enhanced thanks to essential ceramic cladding (white, grey, black or bordeaux), conceals a brand new firebox, which is deeper and higher and follows the natural movement of the flame. A rather large front glass, one of the largest among the pellet stoves currently available on the market, offers a unique view of the fire.
Read more here.
Ductable pellet stove, with top in black coated aluminium and steel sides in the colours Bronze, Silver and Black. The ventilation grille usually found in pellet stoves has been replaced by a single perimeter cut, extremely inconspicuous, located underneath the top. The final result is an elegant and refined item, in which a new larger and deeper firebox with curved lines offers an even more breathtaking view of the fire.
Read more here.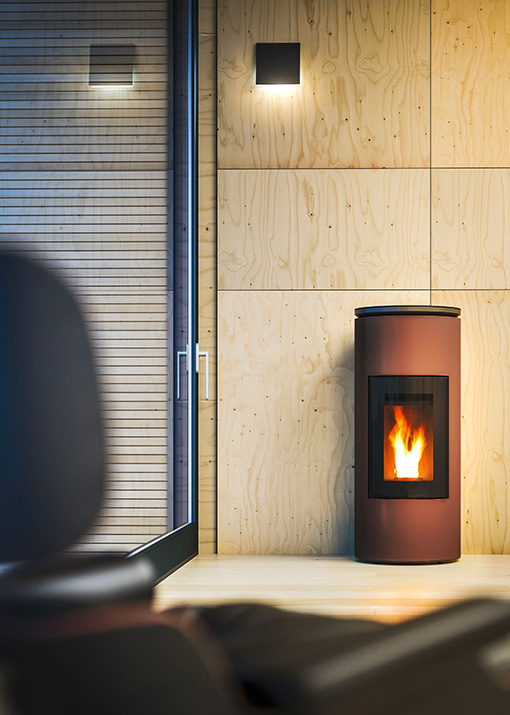 Ductable pellet stove, especially suitable for hallways or confined spaces, thanks to a depth comparable to that of a radiator (30 cm). The extremely clean front, made in black painted steel, houses the fireplace on the right and, on the left, a door to access the pellet hopper. The top features an original geometric design and it comes in painted black or in aluminium cast iron.
Read more here.