Maestro+, the most advanced heat experience
Discover the last frontier of heating
Maestro+ technology allows the stove to express its utmost potential with even an easier and more intuitive use. A real integrated micro-computer dialogues with your smartphone and further improves the performances of the stove that continues to perfectly work even in non-ideal conditions.
Find out all the advantages of the entire range of high-performance stoves that can be controlled remotely.
Dual connection (Wi-Fi and Bluetooth) included
Perfect flame
More user options (smartphone, control panel, remote control)
Automatic remote firmware update
5 preset operating modes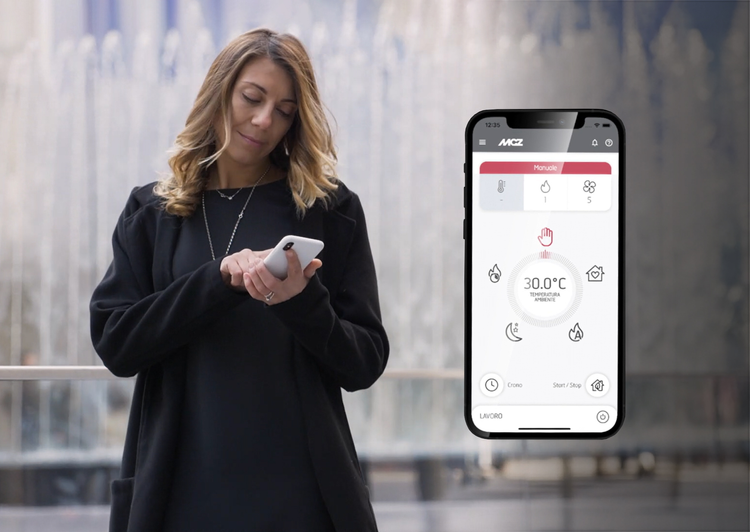 The flame is perfect. Always.
The combustion with Maestro+ is optimal, it generates less ash and leaves the glass clean. This results in lower consumptions, lower emissions and much less frequent cleanings.
Double connection (Wi-Fi and Bluetooth) included
Everything you need to programme and use your stove from your smartphone is included, both from home and remotely without additional kit.
Maestro+ stoves adapt to your style of use
Download the Maestro+ MCZ App on your smartphone to have all the functions to control your stove from your fingertips, both when you're at home and when you're out. It's not a problem if you can't or don't want to use your smartphone. You can use as optional a freestanding remote control or a digital control panel, mounted on the stove.
Easy and complete app
Using the stove with the Maestro+ MCZ app is even easier and more intuitive. in a few clicks, the stove updates you on everything it is processing.
WITH JUST ONE CLICK
Coming home after a stressful day? There's nothing like a warm welcome. Turn it on with just one click: your stove will welcome you with a truly beautiful flame.
SET YOUR COMFORT LEVEL
A warm breeze to heat up your home quickly or a barely perceptible whispering sound. You can set the fan as you like, even at minimum speed with the no air function. If you have a ducted stove, each room will have a special warmth in it.
ADJUST HEATING TO YOUR ROUTINE
Whether you're an early bird or a sleepyhead, it won't make any difference to your stove. It will turn on at the right time. If necessary, it can be set differently every day.
A HYDRO STOVE ONE CLICK AWAY
Everything you need for your hydro stove can also be installed on your smartphone. For full control over operation and consumption.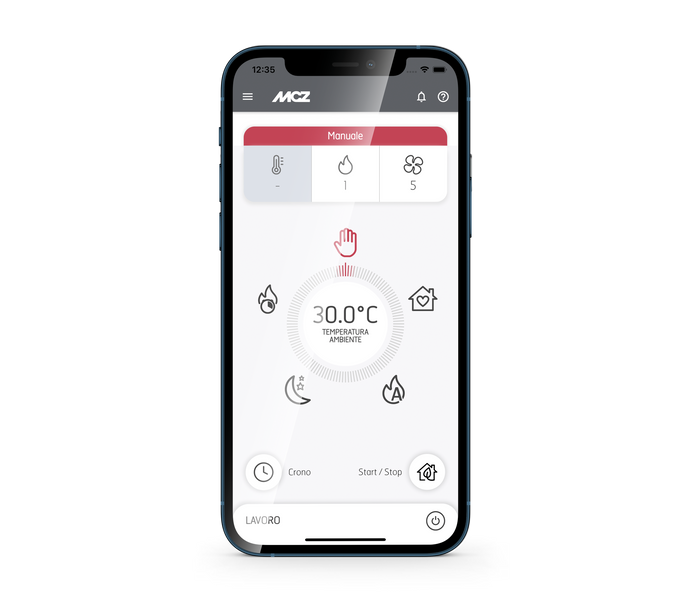 Freestanding remote control
Compatible with all Maestro+ products, the freestanding remote control is equipped with a room thermostat (and an optional humidity probe) which accurately shows the temperature of whichever room you decide to leave it in.
Vertical position for easy reading
Digital Panel
If you are used to a more traditional use, all the functions of the Maestro+ MCZ App are also available in a digital control panel (as standard) that integrates ordinary and extraordinary operating functions (emergency panel).
IGNITION
Simply press a button and you're done. The flame will light up in less than three minutes.
VENTILATION
You can easily access both the room fan and the ducted fan from the panel keys.
VENTILATION
All fans can be set as you wish, even on minimum with the No Air function.
PROGRAMMING
With just a few clicks on the keypad you can set the weekly schedule and two customised temperature levels.
MANUAL USE
You can manage both operating modes from the panel. Manual mode allows you to adjust the power and intensity of the flame.
AUTOMATIC USE
In Automatic mode, you let the stove adjust itself to reach the set temperature.
Operating modes
For all Maestro+ products 5 preset operation modes are available:
COMFORT
Ideal for all situations requiring maximum comfort.
OVERNIGHT
It ensures extremely quiet operation (with reduced noise up to 4 times) and temperature maintenance (also with natural convection).
TURBO
When a room needs to be heated very quickly (110% power operation for 20 minutes, which can be reactivated every hour).
AUTO
If you prefer traditional automatic operation with the option of setting the temperature and ventilation.
MANUAL
If you prefer traditional automatic operation with the option of setting power and ventilation, without adjusting the temperature.
| | Quiet operation * | Comfort ** | Heating capacity | Reduced consumption |
| --- | --- | --- | --- | --- |
| COMFORT | | | | |
Check our FAQ
To install the Maestro MCZ app visit:
To configure your smartphone to use Maestro+, please follow the step-by-step instructions at this link.
The freestanding remote control is already configured, you simply have to pair it to the stove with this procedure: make sure the stove is in pairing mode: if the Bluetooth icon on the stove's display flashes, simply bring the handheld remote control closer and it will connect automatically.
If you can't or don't want to use your smartphone, you have two options:
You can use the digital panel, which is installed on the stove and set up so that you can use all the Maestro+ features at home.
You can purchase the freestanding remote control (as an accessory), ideal for use at home.
You could buy a mobile phone to leave at home, using it as a modem. All you need to do is activate the "Wi-Fi HotSpot" function in the "Settings" menu.
Don't worry. In case of Wi-Fi breaking, you can still use your stove. You have three options:
Use the Bluetooth connection to turn on the stove and manage all the features. With the Bluetooth connection your smartphone works as a remote control, so it doesn't use your home internet network.
Use the emergency panel located at the back of the stove.
Put a smartphone to be used as a modem near the stove and activate the "Wi-Fi HotSpot" feature in the "Settings" menu.
You can connect as many smartphones as you like.